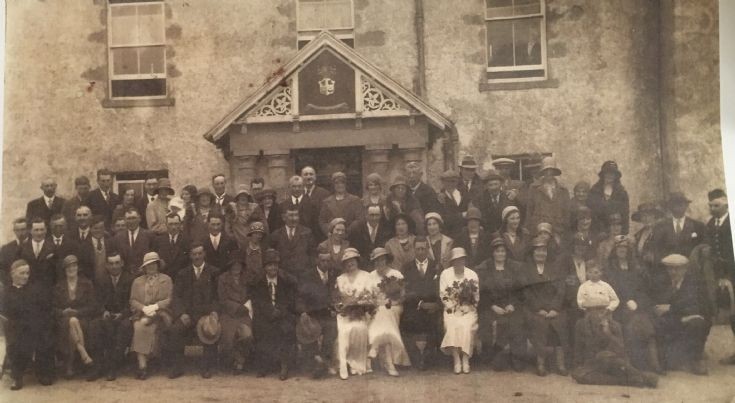 Roybridge Image Library
Wedding 1940 ?
Front row L to R
Canon John MacKintosh, Polly Mackintosh(Brady) Willie Boyle, Bohuntin, Katie Boyle, Davy MacLachlan, Brunachan,Davy's daughter, Mrs MacLachlan, Alec MacLachlan(groom), Bella Brady(bride), Johan Boyle(bridesmaid), Alistair Cameron(best man), ? MacLachlan (bridesmaid),Mgt MacKintosh,Murlaggan,Anne MacKintosh,Blarour, Kate MacKintosh,
Inverroy married Donald MacDonald, Bohenie,his son Dolan MacDonald to Maggie Campbell, Angus MacDonald Cranachan Keppoch(kneeling) Mrs Gibson, Braeroy, Hugh MacKintosh, Bohuntin(Maggie Murlaggan's brother.
2nd row L to R
Duncan MacDonnell, Inverroy, Archie Boyle, Angus Campbell,Bohuntin, Jock Kennedy, Achluacrach, Sandy Hunter, Joe Hunter, Archie MacGregor,Bohenie, Sandy MacGregor, Achaderry, ? , ?, Sandy MacKintosh, Dolina Cameron, Inverroy, Donnie Boyle, Lily Cameron, Jessie Cameron, Nurse Annie MacMaster, Mary (Jock) Kennedy(married Angie MacKintosh) Katie MacKintosh, Murlaggan, Mary MacKillop, Agatha MacPhail, Mrs MacDonnell(Bohenie)(Dr's widow)Donald MacDonald(Bohenie(?), John Gibson(sen)
3rd row L to R
John MacKillop(Bohenie), Donald MacDonald (Keppoch), Angie MacKintosh,(Inverroy and Tirinadrish)Milly Smith (Mrs John Macdonnell), Jimmy MacGregor,Achaderry, Teenie MacKintosh,Inverroy ( married Johnny MacDonald, Bohenie, Mrs MacKintosh(Major's wife),Roy Bridge Hotel,John MacDonald,Bohenie(Johnny Ali), ?,?,?, Denny MacKintosh,Bohuntin, Major William MacKintosh(Nairn)Mrs Denny MacKintosh nee MacDonald, Christine MacDonald, Bunroy, Mrs Mary Cameron, Inverroy, John MacLaren, Glen Turret, ?, Jock Gibson (jun), John MacKillop, Bohenie, Hugh Grant, Achavaddy, Charlie Millen,Inverroy,Katie MacKintosh, Inverroy, Miss Stewart(teacher), Mrs Ronald Kennedy, Bohuntin or his daughter?
Picture added on 13 October 2017 at 15:22
Comments: